Milk Crates delivered beyond Expectations!
You aren't working unless you are contributing, and that's today's case study from Orange Spectrum. Orange Spectrum has always insisted on the end user and its robust application.
So is the case study with Milkmor's Milk Bottle Crate. The brand is renowned and it's considered as the best farm fresh milk brand in Ahmedabad. It has been supplying milk to more than 3000 consumers daily early morning. Since they switched from PET Bottles to Glass bottles, they were quite anxious about their distribution and placement in the milk bag. The glass bottles are fragile and can't sustain extreme conditions during delivery and placement at the consumer's doorstep. Moreover, if one bottle breaks, the milk can spill over and spoil the floor, it just not disturbs consumers' early morning schedule due to the milk's unavailability but the broken glass splinter can cut someone's foot in early morning.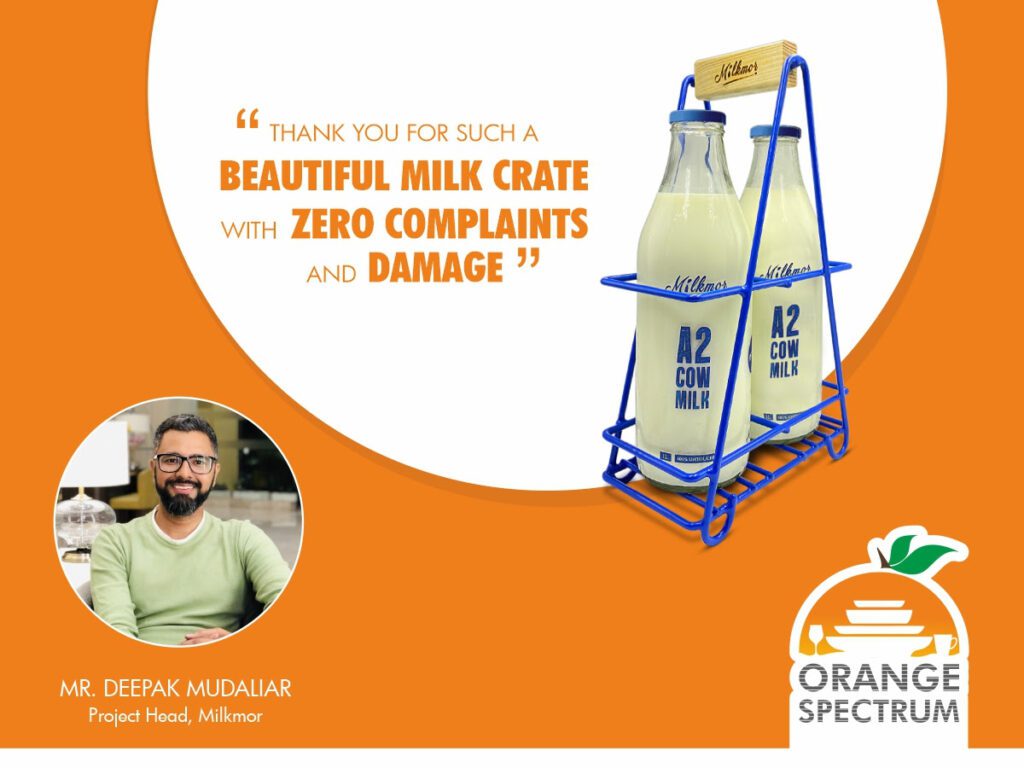 Hence, Milkmor roped in Orange Spectrum to work out some aesthetic and robust Milk crates for the capacity of 2 – 6 bottles. Let's hear it directly from the client.

"Hi! The Milkcrate curated by Orange Spectrum was awesome; Mr.Ruchit (Managing Director of Orange Spectrum) took a personal interest in the product development, and the finishing, strength, and aesthetics were very good. Fixing the wooden handle was an extra pain, but it gave that nostalgic feeling and looked like a farm-fresh milk brand. We've almost zero complaints about its breakage or damage, and it looks as fresh as it was received yesterday, even after two years. We created Crates even for six bottles so the delivery boy can carry them easily to deliver multiple flats in one block.

We vouch for Orange Spectrum, and we're thankful to the team who was passionate enough to create something better than our expectations".

Deepak Mudaliar | Project Head, Milkmor

Like Mr.Deepak, many such clients chose Orange Spectrum as their storage partner. Do visit our website to learn more about our products.