5 Quick Benefits with Orange Kitch!
Any chance of the back-date smell of man chow soup in the tomato basil soup served today fresh in your crockeries?
Orange Spectrum, also known as Orange Kitch, knows the live kitchen business very well, and its experience makes us your rough and tough storage partner.
Apart from hotels, Restaurants, and Caterers, there is a large size of storage equipments rental service providers, majorly knowns as Decorators. Many decorators in Ahmedabad, Baroda, Surat, Mumbai, Jaipur, etc, had daily troubles with plastic crates. Below are some quick pointers about why they shifted from Plastic to Orange Spectrum's Metal Crates. Read till below for some essential insights; this might be a hurdle for your business growth., of which you might be unaware.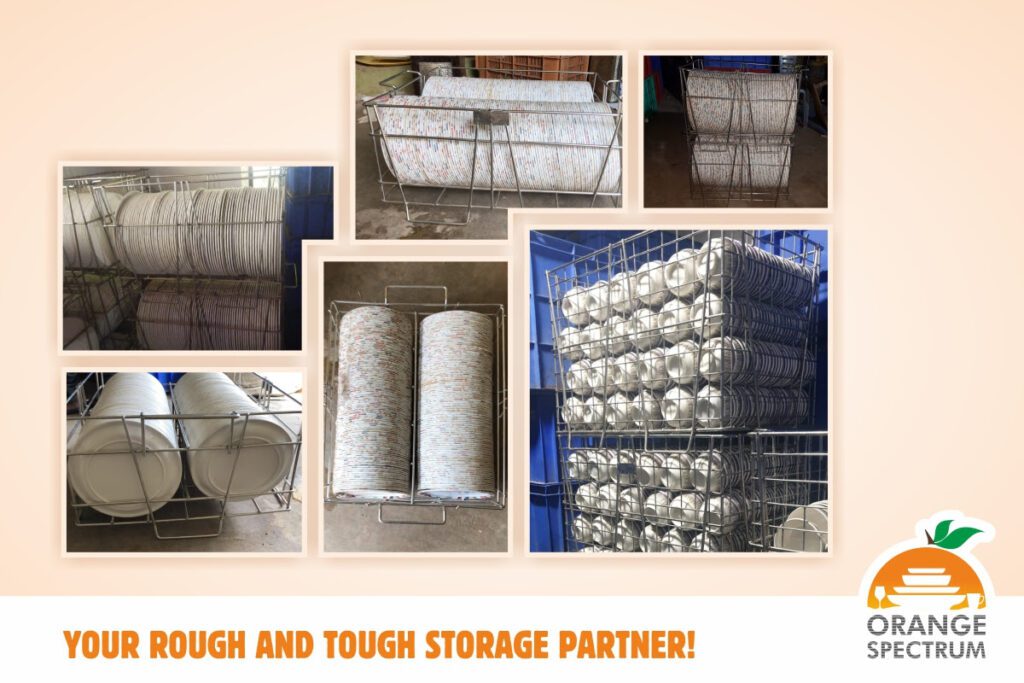 The Bottom – Yes, the bottoms of Plastic Crates get broken every year because of mishandling, overloading, or undue stacking. In contrast, Mesh wire crates are durable and have 360-degree equal and holistic strength. Just because the bottom breaks during the transit, even the plate or crockeries break too in bulk, you've to rearrange everything back. At the same time, Mesh wire preserves your crockeries without any worries. So save on your service, timely delivery, and damage cost.

 
Plastic crates aren't stackable in a reliable manner. You can't stake up the crates to a certain level, whereas Orange Spectrum's interlock system makes it the perfect stackable crate. Save Space, Store More, and Be Sure.

Often the plastic crates are used for multi-purpose dumping, and the sanity of crockery storage gets diluted. Ultimately, the food catering industry is a service industry that shows our clients unprofessionalism. The staff or guests might use it to dump used tissue papers, paper glasses, or left-out Food, and the same crate is used the very next day for those fresh and clean crockeries. You won't want that. Right?

The Plastic Crates are closed, unlike the airy mesh wire baskets, and that's why often the foul smell of Food isn't ventilated out, which carries the odor in the fresh crockeries too. Imagine a guest having fresh tomato basil soup with a back-date smell of man chow soup. A small thing would be a combined failure of the entire ceremony. Isn't it? Food is the most important in any celebration and Let's keep that experience as pure as it should be.

Oh, Yes, one more benefit. Unlike opaque plastic crates, the mesh wire baskets are customized and visible enough. So the basket content and the count of crockeries become more accessible and faster. The staff working in daily routine with this equipments would correlate it better.
Save Space, Store More, and Be Sure.